Harvey Fenton (ed.)
Flesh & Blood Compendium
Godalming: FAB Press 2003, ISBN 1-903254-10-8, 456 p., hundreds of photos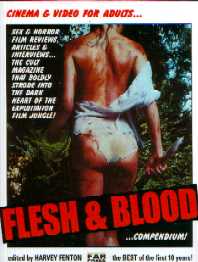 Celebrating its 10th birthday Harvey Fenton finally presents his (in)famous (s)exploitation and adult film magazine Flesh & Blood as a kind of 'best of'-compendium, presenting nearly 500 pages of reproduced and slightly remixed material. Flesh & Blood is the basis of the FAB-Press and gained world wide importance as a nearly analytical forum for the discussion of underground cult films, sex and violence and high-class adult cinema, assembling writers such as Steven Thrower, Mitch Davis, Chris Gallant (editor of the FAB-Argento-book), Christian Kessler (of Splatting Image, Germany) etc.
As always this volume contains loads of interesting, informative, amusing and bizarre interviews and articles on cult directors such as Tinto Brass, Alain Robbe-Grillet, Marci Ferreri, Richard Stanley (DUST DEVIL), Gerard Damiano (DEEP THROAT), Michele Soavi (THE CHURCH), Nacho Cerdá (AFTERMATH), Bigas Luna (THE AGES OF LULU), Russ Meyer, Harry Kümmel (DAUGHTERS OF DARKNESS) and Peter Jackson. There are in depth reviews of cult films like SALO, CHARLIE'S FAMILY, Michael Ninn's LATEX etc., WILD DOGS, CAFE FLESH, BEHIND THE GREEN DOOR as well as shorter remarks on many underground classics. Additional texts concentrate on certain relevant topics such as the Jack the Ripper films, teenie slasher movies, British horror films, industrial ultra violence on screen (Merzbow), William Burroughs, rape revenge films, reality TV and death films.
This impressive display of rare material is recommended to every aficionado of a cinema of extremes, open minded and ready to transcend the borders of arthouse cinema and pornography... Even for the collectors of the former printed issues of Flesh & Blood this book holds at least some surprises.
In near future Harvey Fenton will publish the official Flesh & Blood book two.
Marcus Stiglegger